.
Select the length of seal you want from the drop down above and your seal will be shipped in one continuous piece.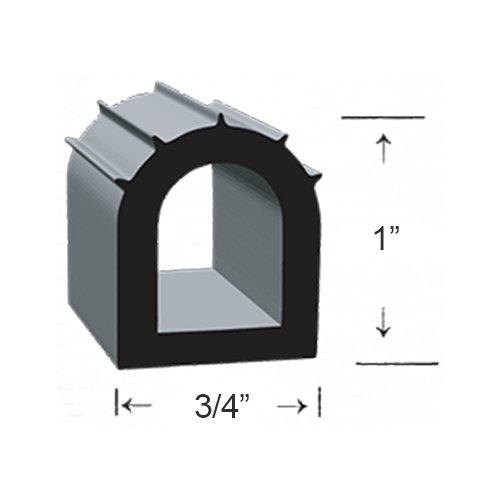 Details:
3/4" W X 1" H

Get rid of unwanted noise, moisture, vibration or dust with the versatile RV D Bulb Replacement seal.
Keeping the outside out, and the inside in is the job of every seal in your RV. The integrity of your recreational vehicle's internal environment is only as good as the linings of every door, hatch, and window in your rig. At CanadaRV we understand how important it is that your ride provides mile after mile of continual comfort. We know that your peace of mind is predicated upon the fact that your rig is sealed up tighter than your grandma's 1970's burnt orange Tupperware with the sunburst pattern. With our seals, unlike that Tupperware, you won't need to 'burp' the dome of your RV for an extra-tight seal. It will already be there.
Our generous RV Slide Out - Foam "D" Bulb Seal is fully cross-functional for a myriad of applications. This adhesive-backed seal is primarily used for recreational vehicle purposes but will work equally as well with cargo doors, windows, fiberglass enclosures, hatches, and many more applications. Truly, the uses for this product are endless.
With design in mind, the seal is a dark black color so that it will blend with most items to which it is applied. Its outer surface has a sharp ridged three channel top that, not only looks nice but adds extra barriers against the outdoor elements attempting to get inside your rig. The material is a high-quality foam rubber that has a dense, but soft, feel. The rubber is resistant to crushing and will provide repeated bounce back over multiple uses.
If you're worried about installation; don't. The seal is a breeze to install for even a beginning DIY RV outfitter. The fixative backing is a pressure sensitive adhesive that allows it to grip more strenuously to fixed surfaces than your average commercial-grade adhesive. First, clean the surface to which you are applying the seal. Cut the strip to the desired length (which you can purchase in one-foot lengths or rolls of fifty-feet) pull the backing and apply. If you take your time and apply the seal correctly, it will provide years of solid protection for your vehicle or home.
If you have any questions regarding this seal or any of our other great products at CanadaRV, don't hesitate to give our helpful customer service team a call.